At the Roy Street Clinic, we have the latest technology for the planning and completion of your implant treatment.
Thanks to our Simplant technology, you'll get:
more accuracy
more safety
a quicker, more accurate, and less painful surgery
to avoid stitches in many cases
Thanks to our Simplant technology and the use of low-radiation conical-beam tomography, we can plan and optimize your treatment.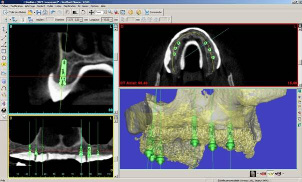 Firstly, the bone anatomy is analyzed. We can measure with precision the height, width and bone density. We identify vital anatomical parts such as the inferior alveolar nerves and maxillary openings to avoid the risk of complications associated with these systems. It will also be possible to determine whether bone grafts will be required as well as the size and morphology if required, and use the appropriate techniques upon evaluation
With this thorough planning, we can virtually position the implants in three dimensions with our software. We can select the ideal implant for your case in terms of length, diameter and model. We can ensure the ideal positioning and determine their angle with respect to bite strength. We can determine and plan the optimal-healing period according to bone density. Lastly, we can determine the best type of replacement for you.
Once all the planning has been completed, we can then order a series of high-precision surgical guides. Surgery can be then performed quickly and safely by guiding the bone preparation through guide tubes adapted to the diameter of our tips along with a predetermined depth. In many cases, it is possible to perform surgery without opening the gums and without stitches. Only small circles of gingiva having the diameter of implants are removed. Pain, swelling, and discomfort is therefore highly reduced, if not eliminated, allowing you to resume your normal activities as soon as possible. The implant is consequently more accurate, quickly completed and less traumatic.